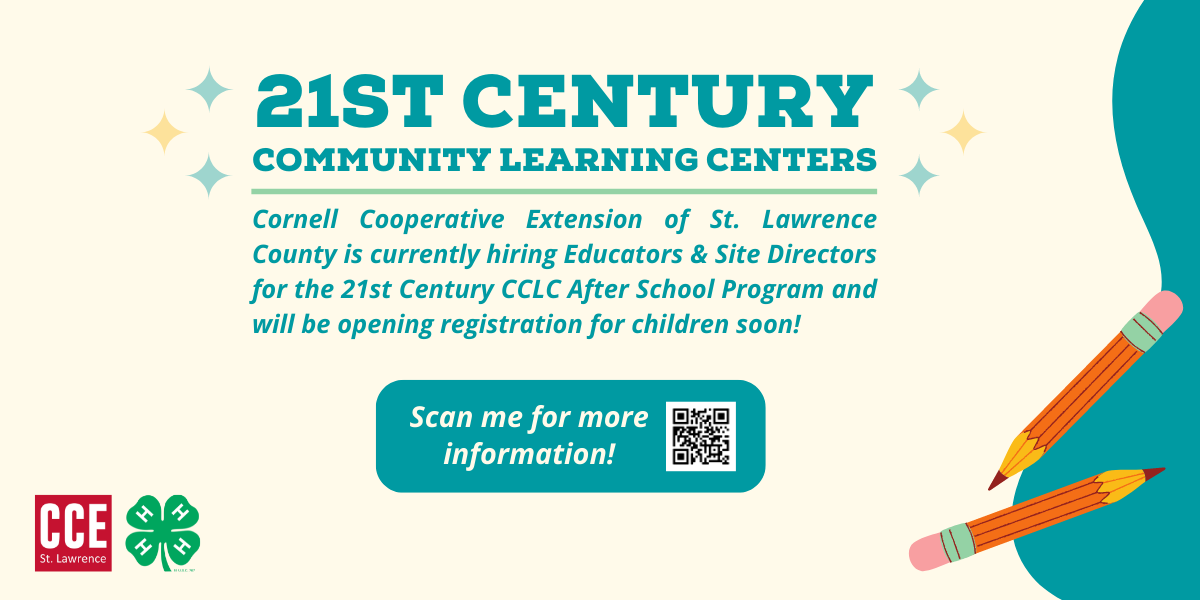 Exciting News!
Cornell Cooperative Extension of St. Lawrence County has been awarded the 21st Century Community Learning Centers (21st CCLC) grant to provide enrichment programming at Edwards-Knox Central School, Colton-Pierrepont Central School, Hermon-Dekalb Central School, and Parishville-Hopkinton Central School! This programming will be before and after school to provide homework help, a snack, and enrichment activities such as cooking, STEM, healthy living, and much more.
To bring the 21st CCLC enrichment programming to these schools, CCE needs staff!
To apply, please visit click HERE 
The 4-H After School Programs are managed by Cornell Cooperative Extension of St. Lawrence County and licensed by the St. Lawrence County Child Care Council. Each program will operate Monday-Friday on days where school is in session. Educators will work an average of 15-17 hours per week. Exact hours vary based on location. We offer paid training, CPR and First Aid classes, competitive wages, and flexible hours. Educator positions require low-to-no preparation for activities. All lessons and curriculum are provided for educators so they can focus on the most important thing — creating a fun, safe, enriching environment for the students!